The vision for Points of Light was gifted to Connie in 2001 when she and her husband Bob finally got to leave Atlanta and move to a beautiful place that backs up to the national forest north of Asheville.  Points of Light was incorporated as an Aquarian company in January of 2006.  The ink was not yet dry on the incorporation papers when Connie left on what turned into a protracted and very expensive rock buying expedition.  She stayed gone for three weeks, and then rocks started showing up.  Lots and lots of rocks.
This went on for three years.  Lots and lots of rocks, with crates piling up and finally starting to fall apart in the back pasture.  In March of 2009 all of the stars finally lined up.  Connie woke up one morning, announced to Bob that it was time to go get our space, and they did within a couple of days.  Bob bought a Bobcat and figured out how to move really big rocks and everything came together.
Connie's vision of Points of Light is that it be a beacon of light for this area.  That it truly bless everyone who comes in contact with it on every level.  That it be a vehicle for each and every crystal to find their true person or place, to fulfill their service during this remarkable time of great shifts and changes.
Meet Connie Olson
Rocks and crystals have always been an important part of Connie's spiritual path.  She has loved rocks since she was very young and has boxes and tins of rocks she collected in the creeks of middle Tennessee when she was five or six years old.  She is very well traveled and always brings rocks back from wherever she visits.  Stonehenge, Egypt, Peru (lots of rocks from Peru!), Europe, Brazil, Mount Shasta, Sedona, the mines of New Mexico, Arkansas, and so on.  She once crawled under a thorn bush and fought off a rattlesnake to grab a meteor chunk in New Mexico in an area where you were not allowed (ahem) to remove anything.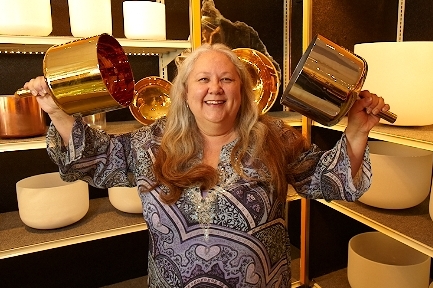 She has wanted to do the Points of Light thing pretty much forever, but first she did a twenty year stint as the Vice President and CFO of Finns Aquatics, Inc., one of the top tropical fish distributing companies in the nation.  She will tell you that the twenty years of business savvy she brings from her time at Finns was just training for Points of Light, where she could have a lot more fun and not ever get her feet wet.  She and Bob have been married for twenty five years, and they still like each other best.  Three kids all grown, one granddaughter, don't get her started!  Horses, dogs, and a heart centered way of living her life.  This is one cool lady.