Points of Light Crystal and Mineral Gallery is THE source for one-of-a-kind crystals for interior decorating. Contact us today to find out about our special relationship with interior decorators and designers and let us help you find the perfect crystal to balance your space and delight your client. 
Download our Interior Decorating App
Our App allows you and your client to quickly browse our select decorator crystals.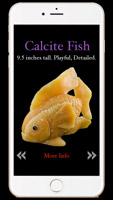 We work closely with interior decorators who prefer one-of-a-kind statement and accent pieces when designing a space. Instead of using mass produced off-the-shelf artwork, designers are choosing crystals and minerals when uniqueness is a priority. We are here for when your client demands only the highest quality items be used in designing their space. The internet is full of low grade crystals and minerals. Our inventory is collector quality, with many pieces being museum grade. Our crystals are investments and truly are nature's masterpieces.